Norika Fujiwara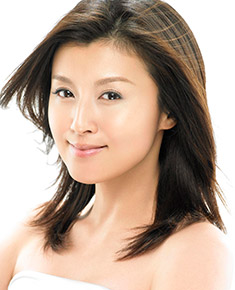 After being crowned Miss Japan in 1992, Norika quickly rose to stardom as a top model and actress, representing Japan and Asia on-screen in films and TV dramas, as well as on stage. With numerous contracts with the nation's top corporations, Norika is also known as the queen of commercials in Japan. In addition to acting, her portfolio includes voice over work, writing, producing, and MC work.
Norika supplied the voice of Fiona in the Japanese version of DreamWorks's "Shrek" and promoted the film at Cannes and the Tokyo International Film Festivals with Cameron Diaz, the voice of Fiona for the English version.
Multi-talented Norika's portfolio is plentiful, ranging from the official presenter for the Japanese reporting of the Academy Awards and hosting Japan's top national music television programs to Athens' Olympics and Brazilian World Judo news casting.
She has authored two best-selling book publications, "Fujiwara Shugi" and "Norika Body".
Off-screen, triggered by her involvement in aiding victims in the Great Hanshin-Awaji Earthquake in 1995, Norika has since become prominently involved in international charity projects, especially those in promoting global environmental awareness.
Filmography
China Strike Force (Director: Stanley Ton)

Under her real name 'Norika', Norika plays the Heroine in this vibrant action movie. This film was a box office hit and number one film of the century in Hong Kong China, Taiwan, Malaysia, and Singapore.

Cat's Eye (Director: Hayashi Kaizosha)
TV Series

CX "Star no Koi" <Star of Romance>
CX Kiken na Kankei <Dangerous Relations>
CX "Naomi"
TBS "Mukashi no Otoko" ´<Ex Boyfriend>
NHK "Kekkon no Katachi" <Shape of Marriage>
CX "Ai to Seishun no Takaraduka" <Love and Takaraduka's Youth>
CX "O-oku" (Powerful drama based on the true story of shogun generals taking advantage of women during the Edo period)
Gion Bayashi
"Tengoku e no Karenda-"<Calendar to Heaven>

Other Works

Stage:

・Broadway musical "CABARET" starring Norika Fujiwara(01.2010)
・Broadway musical "Drowsy Chaperone" starring Norika Fujiwara
・"Overseas"

Publications

*Fujiwara Shugi" "紀香魂" "Norika Body" "Kandaku Smile Please" (Photo book of children in Afghanistan)
International Service Activities
2002:

Met with President Kim Dae-Jung as Japan-Korea Goodwill Ambassador,and spent the year improving cultural exchange between countries.

8/2008:

"To Afghanistan" (24 hour TV broadcast, "Helping the world with Love", a plan created and carried out independently by Norika)

12/2008

Created a photography exhibition for charity, with photos she personally took of children in Afghanistan (Smile Please)

2003:

Set-up a photography exhibition around Japan to aid children's education worldwide, called *The Norika Fujiwara Fund" (currently active)

Interview with Secretary General of the United Nations, Mr. Kofi Annan, gave a speech at the United Nations conference in New York and opened a charity photography exhibition in NY

2005:

Founded Anda Girl's Primary School in Bamiyan, Afghanistan

3/2006:

To Timorlest (Invitation by the U.N. to travel as a photographer)

2006:

Attended the United Nations Headquarters in New York as a photographer for the "Human Security for All" photography exhibition

2007:

Appointed as Public Relations Envoy for the Red Cross

2/2008:

Traveled to Bangladesh as PR Envoy for the Red Cross to aid the needy and interview victims of disaster

3/2008:

Traveled to Tuvalu, islands said to sink into the ocean due to global warming, to promote environmental awareness

3/2008:

Founded "Norika School" for children in Cambodia, a project developed independently by Norika with the cooperation of JHP.